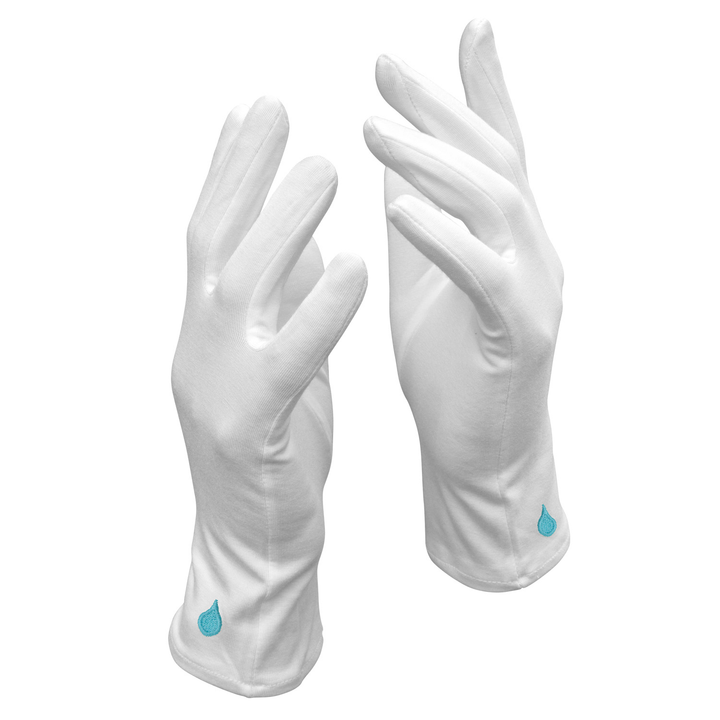 Give your hands the glove treatment.
Our gloves are the perfect fit for an overnight hand spa. They stay securely in place so you can give your hands an all-night moisturizing and reparative treatment and keep your bedding clean. Coat hands with Hooray Hand Crème, your favorite Best Skin Ever, or Best Cuticles Ever oil, slide on the gloves, and wake up in the morning with renewed, smooth, soft hands.
Our super soft bamboo gloves are also an awesome option to appease dry hands and prevent scratching, or as protection for rashes and other skin concerns.
Inspired by 1920s glove style, our wrist-length fitted gloves bring elegance to hand hygiene and care. The fun fashion of wearing gloves while out on the town, travelling, or in public spaces can keep your hands clean and soft.
A heavenly hybrid of high-end fashion and disposable cloth gloves, these handy, one-size-fits-all bright white gloves are comprised of a washable 92% bamboo fiber and 8% Lycra blend for a comfortable and sophisticatedly snug glove that maintains its shape. They are easy to wear, wash, and replace when needed.
Hand or machine wash cold or warm on a gentle cycle for best results. Ideally lay flat to dry rather than using the dryer.