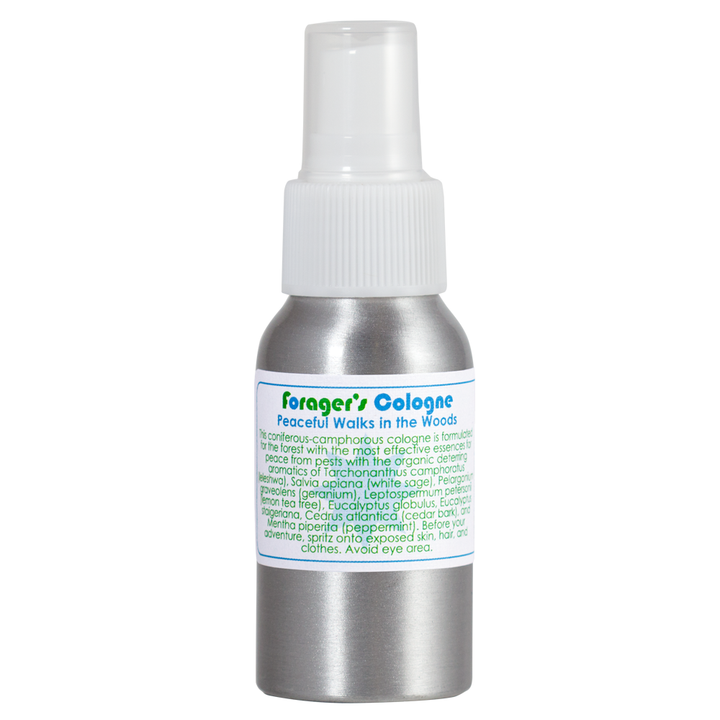 Quick overview
Details
Ingredients
Enjoy peace from outdoor pests with Living Libations Forager's Cologne. This coniferous-camphorous cologne discourages the buzz of fly-bys. Organic, wild-crafted essences aromatically anoint the skin while letting you enjoy the outdoors instead of shewing and swatting.
Nature's best and brightest have made the cut in this foraging formula: Cedar and Peppermint to placate, Eucalyptus to activate, White Sage to consecrate and Geranium to invigorate. Aromatic allies to ensure your walk in the woods is a peaceful one.
Use: Forager's Cologne is most effective when used in combination with our Forager's Balm. Before you embark on your forest foray, spritz exposed skin, hair and clothes with the cologne, then use Forager's balm on your hands, behind the ears, on the face and at the nape of the neck.
60ml 
| | |
| --- | --- |
| Organic Biodynamic Alcohol | Organic Biodynamic Alcohol serves as a carrier for our petal perfumes and forest colognes, allowing each botanical to effortlessly infuse the skin with aromatic wonders. This organic, biodynamic alcohol is of the utmost quality and is triple-filtered for purity. Produced from certified organic grapes, it is independently tested to ensure it meets the United States Pharmacopeia (USP) standards for pure, organic, pharmaceutical grade alcohol. |
| Leleshwa - Tarchonanthus camphoratus | Luminous Leleshwa is an illuminating and purifying essential oil also known as African Wild Sage, Wild Camphor Bush, Hottentot Tobacco, and Mikalambati in Swahili. This sagacious sage shrub is wild-crafted in Kenya and has been traditionally used as a folk remedy to deodorize and cleanse. Its clean, camphorous aroma clarifies thinking in an instant, opens the breath and clears the body of sluggishness. Wild animals like elephants and rhinoceros rub their skin upon the shrub to shield their skin from flying and crawling pests. |
| White Sage - Salvia apiana | Wondrous White Sage glows with gorgeous silvery-green leaves that have been traditionally burned for the purifying powers of its pungent smoke. The essence is an ally to sanctify the air, clear mental congestion and infuse thoughts with peace. |
| Geranium - Pelargonium graveolens | Geranium is potent with the botanical compounds of geraniol and citral which are the competent components that have made geranium an effective crawler-curber throughout history. |
| Lemon Tea Tree - Leptospermum petersonii | Lemon Tea Tree contains three potent compounds that are nature's most effective answer to fly-bys and crawlers: citral, citronellal, and pinene. Lemon tea tree has the added benefit of having a wonderfully uplifting, sunny scent. |
| Eucalyptus - Eucalyptus globulus | This particular strain of eucalyptus contains high amounts of cineol, which is a disincentive to pests. |
| Eucalyptus Lemon Ironbark - Eucalyptus staigeriana | Lemon -Scented Ironbark Eucalyptus contains the compounds of citronell o l, citral, geraniol, and limonene . |
| Cedar - Cedrus atlantica | Rich, woodsy Cedar oil is the ingredient that takes our Forager's cologne from a natural pest spray to a stand alone fragrance. You just might find yourself spritzing even when you're nowhere near the forest! A deep, lasting aromatic with subtle hints of sweetness, cedar is known to assist in the decision-making process, encourage a calm disposition, and inspire clarity of mind. |
| Peppermint - Mentha piperita | Peppermint is wonderfully refreshing yet not to unfriendly flyers who find the aroma too powerful. |
Key Features:
Natural Bug Spray
Deet Free Bug Spray
Deet Free