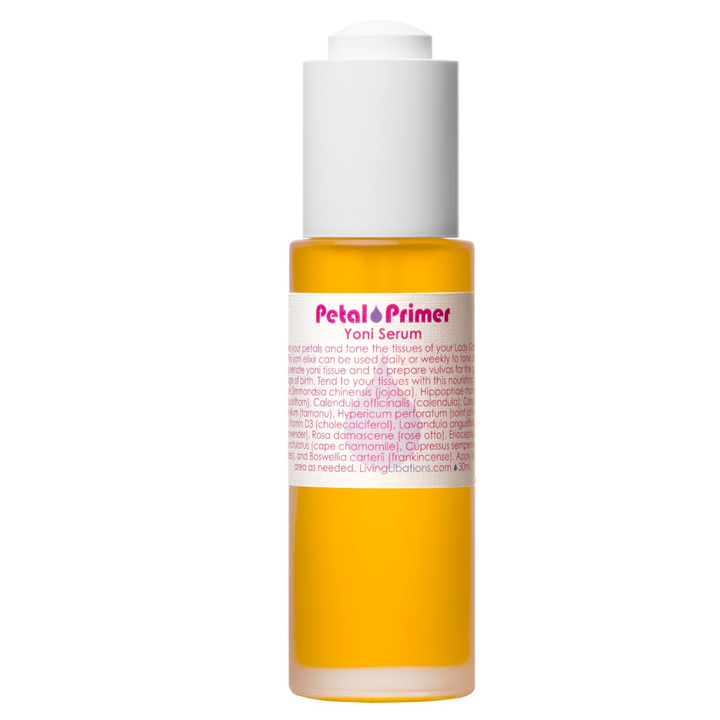 Quick overview
Details
Ingredients
Prime your petals and tone the tissues of your Lady Star with our Petal Primer Yoni Serum. This organic elixir may be enjoyed daily or weekly to tone and strengthen yoni tissue and during pregnancy to prepare body and spirit for the great passage of birth.
This pleasant preparatory massage blend may be used in the three months leading up to birth (or before), it steadies the delicate petals of the perineal area as they ready themselves for their full bloom. Massaging regularly with this pure, revitalizing serum will caringly-coax the tissue to stretch. Perineal massage is an ancient midwifery tradition and a wonderful way to align your body and soul as you prepare to meet your little one.
Petal Primer Yoni Serum keeps the delicate tissues of your Lady Garden toned, and resilient. This organic elixir can also be used to tone the yoni daily or weekly
Directions: Patch test inside the elbow before applying to more sensitive skin. Soothe and lube delicate tissues. It is a perfect perineal massage oil.
Yoni Priming Massage
Perineal massage may be performed individually or with a partner. If you will be serving as your own masseuse, be sure to have a mirror handy so you can become better acquainted with your perineal area.
1. Begin with clean hands. You will be massaging inside and outside your yoni, so you may want to trim your nails before the massage begins.
2. Choose a comfortable place to recline with your legs bent and knees apart. Place the mirror between your legs and position it so you can see the entire perineal area.
3. Place a generous amount of Petal Primer on your fingers and then lubricate the entire perineal area (the entire area surrounding the vagina and anus).
4. Place both of your thumbs about one inch inside of your vagina. Use the strength of your thumbs to press downward, stretching toward your rectum. Continue to gently stretch the tissue until you feel a slight discomfort. Hold the stretch for two minutes.
5. Gently move your thumbs to the sides of your vagina, still keeping them inserted at least one inch. Pull the tissue in the motion of childbirth, gently stretching the sides in a forward, downward motion. Your goal during this stretch is to imitate the movement of the baby through the birth canal, so pull the tissue in the direction of the baby's head. Continue this stretch for 3-4 minutes.
6. Gently massage the area between the vagina and anus for another 1-2 minutes, pressing in a downward, forward motion.
Remember to be extremely gentle to prevent swelling or bruising. Avoid the urinary opening during massage so that oil and any bacteria are not pushed into the urethra.
While perineal massage is effective in many cases, it is not a guaranteed practice. Be sure to discuss your expectations concerning tearing and episiotomies with your doctor or midwife.
30ml
| | |
| --- | --- |
| Jojoba - Simmondsia chinensis | Jojoba pacifies your petals with lubricating compounds and beneficial antioxidants. It soaks deep into the skin with B-complex vitamins and all absorbable forms of vitamin E. This oil is remarkably similar to the body. |
| Seabuckthorn Berry - Hippophae rhamnoides | Supercritical Seabuckthorn oil soothes the fertile crescent of your femininity before and after the passage of birth. Seabuckthorn puts puffiness at peace and infuses your yoni with loving lipids, moisturizing manna, and benevolent botanical benefits. |
| Calendula - Calendula officinalis | Protect your precious petals from redness and puffiness. This bright yellow flower firms and tones the tissues and boosts resiliency. |
| Tamanu - Calophyllum inophyllum | Tamanu tends the skin of your Lady Garden, and improves the appearance of stretch marks and scars, with its loving lipids. |
| Saint Johnswort - Hypericum perforatum | This perennial is great for your perineal! Saint Johnswort contains naturally occurring tannins that soothe until you feel smooth. |
| Vitamin D3 | A beneficial pro-hormone found in vitamin D found in almost every tissue in the body. |
| Lavender - Lavandula angustifolia | Lovely Lavender oil serenes the spirit, tones skin that has been stretched, improves the look of stretch marks, and sweetly soothes your delicate yoni in preparation for birth. |
| Rose Otto - Rosa damascena | Rose Otto increases elasticity and the tissue's ability to stretch. It satiates thirsty skin and diminishes dryness to perfectly prime the Lady Garden. |
| Cape Chamomile - Eriocephalus punctulatus | Infuse your yoni with deep blue hues of rejuvenation! Cape Chamomile soothes the delicate tissues |
| Cypress - Cupressus sempervirens | Refreshing Cypress shields the yoni by soothing dryness, and infusing your Lady Star with an oh-so-fresh feeling. |
| Frankincense - Boswellia carterii | Nourishing Frankincense delivers tone to the delicate folds of your perineal area. This sacred essence diminishes the look of scars, decreases puffiness, and sanctifies the altar of your Lady Star. |
Key Features:
Coconut Oil Lubricant
Best Natural Lube
Organic Lube