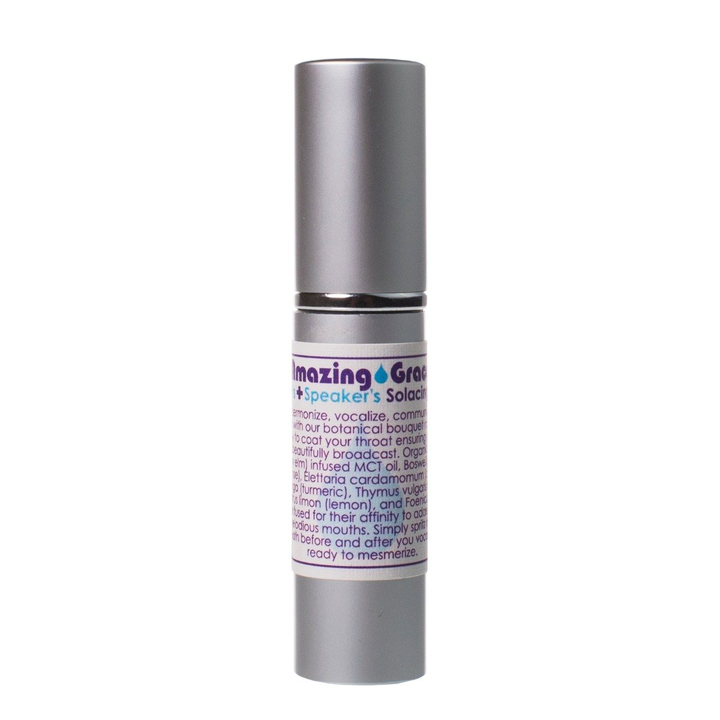 Quick overview
Details
Ingredients
Sing, speak, sermonize, vocalize, communicate, debate, elate, and narrate with Living Libations Amazing Grace Singer's + Speaker's Solacing Spray. This steadfast ally coats your throat so your voice will last as you beautifully broadcast.
This mollifying-muse belongs in every performer's back pocket! A loving larynx-lullaby soothes and harmonizes the throat chakra, and averts vocal fatigue with the grace of our super-lubricating slippery elm infused botanical bouquet throat spray.
If you are a singer, performer or professional speaker, your voice is your livelihood. Amazing Grace is a botanical infusion of protective plants that lovingly attends to your oral care. Crafted with a superhero soother, slippery elm is herbally infused into MCT oil, a concentrated coconut oil that is abundant in beneficial compounds. The essential oils of Cardamom, Frankincense, Turmeric, Thyme Linalool, Lemon and Fennel adore and restore your singing and speaking oasis.
Simply spritz into mouth to freshen breath before and after you vocalize, and get ready to mesmerize.
Directions:A spritz or two into the mouth will do for an amazing grace of calm collection before you speak or sing or tell your truth.
| | |
| --- | --- |
| Slippery Elm - Ulmus rubra | MCT oil is a concentrated form of coconut oil that captures the most beneficial, nourishing compounds – Medium Chain Triglycerides. To this elixir we have infused the inner bark of slippery elm, which contains a polysaccharide substance called mucilage. When infused in MCT, this soothing slippery slope coats your mouth and throat with moisturizing hope. |
| Cardamom - Elettaria cardamomum | Cardamon stimulates, tones and contributes to oral care as a genial botanicalbiotic. It is an opulent oil that has been used for centuries as an invigorating, energizing, and uplifting essence – a boost of botanical inspiration before a compelling concert or keynote speech. |
| Frankincense Serrata - Boswellia serrata | Frankincense is a talented treasure used to balance breathing, mind the mouth, relax the throat, and encourage confidence. This ancient essence also harmonizes the throat chakra and helps us connect to the wisdom of our inner guidance and tune into our intuition when we want to share the transmissions of our infinite intelligence. Nadine made Frankincense blends for acclaimed author Margaret Atwood to use before her book readings and talks. She enjoyed it for its ability to instill calming confidence. |
| Turmeric - Curcuma longa | Our super potent, Turmeric extract is herbal nourishment of golden-goodness for your mouth and throat, nourishing your oral-oasis, and helping to restore your speaking and singing instrument to homeostasis. |
| Sweet Thyme - Thymus linalool | Sublime Sweet Thyme is a potent member of the thyme family yet gentler to behold. It invigorates the throat so that your truth may be told. |
| Lemon - Citrus limon | Lemon oil infuses this blend with a zesty friend to care for the mouth and throat so that you can present till your heart's content. |
| Fennel - Foeniculum vulgare dulce | Sweet Fennel essence is supportive of the spirit. The revitalizing, motivating nature of fennel will infuse this botanical muse into your performance with positive energy and persuasive power. |