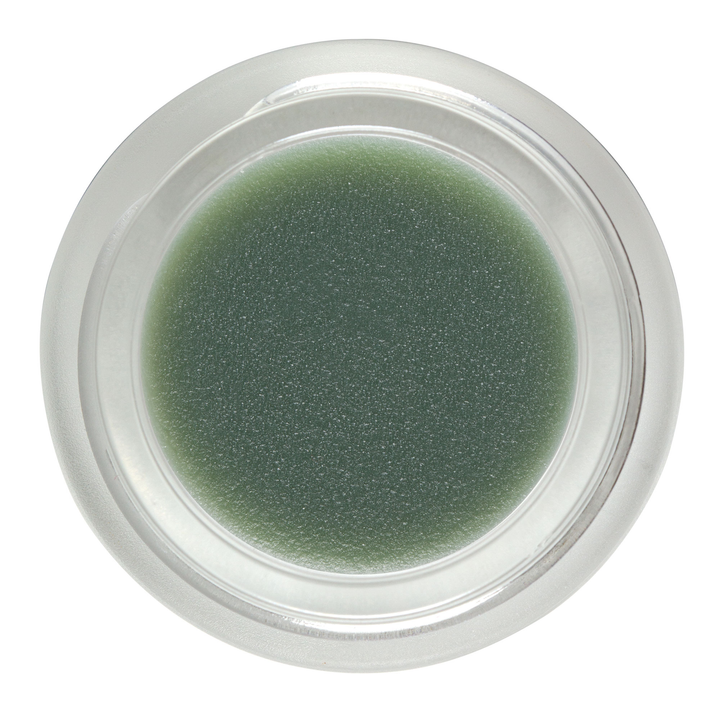 Quick overview
Details
Ingredients
Comfort your complexion with this O3 activated BeDew Dab Ozonated Beauty Balm that is as cooling as the morning dew. Let this ethereal blue-hued balm cool and suture the appearance of dry, rough, red skin. Morning or night, dab this dewy delight on to skin in need of true blue tender loving care.
BeDew Dab Ozonated Beauty Balm blends azure-blue botanical oils with cooling plant essences and fresh ozone for a super-chilled beauty balm.
Tranquil Blue Tansy, a naturally cobalt colored oil, and chill-pill Peppermint calm intense skin and abate the appearance of redness and roughness. This velvety, golden balm turns to a silky-soft gel above room temperature. Replenishing Jojoba and sheltering Laurel wax blend into a silky, soothing balm brimming with abundant sacred Frankincense, soothing Sandalwood, and strengthening Cypress. Ozone delivers the life force of oxygen to the skin for a resplendent, dewy glow.
Keep your cool with a dab of calmative dew applied onto any area when needed, or upon cleansing the skin morning and night.
Understanding the Aroma of Ozone
If you are new to ozonated oil, the smell can be surprising as it is reminiscent of the aroma of charged air during a lightning storm. Most people love the fresh charged aroma, while others, at first sniff, find it strong and unusual. These folks find it more enjoyable after using ozone for a few days. Each formula is enhanced with the delectable dance of infused aromatic essential oils to further activate the olfactory and skin's experience.
Directions: Place a single, powerful drop directly on the affected area. Works well under eye makeup, on eyebrows and as a lip gloss too!
**Our face and lip balms, butters, and crèmes may soften or liquefy when set in the sunshine or in warm spaces. Room temperature or cooler is best for the most luxurious texture and consistency. Pop in the fridge for swift solidification.
** When using a new product, patch test for sensitivity, by applying a dab inside the forearm or behind the ear, and watch the spot for a couple of days for any sensitivities.
6.5ml
| | |
| --- | --- |
| Ozonated Jojoba - Simmondsia chinensis O3 | Jojoba is juiced with opulent ozone to supercharge skin! When ozone is added to wholesome Jojoba a whole new level of abundance is achieved. Activated oxygen, ozone, is made by charging pure oxygen (two oxygen atoms - O2) to become pure ozone (with three oxygen atoms - O3). This freshly activated oxygen is then slowly infused into Jojoba. Bubbling ozone through Jojoba further fortifies the oil with a breath of fresh air infusing life force right into the skin. Jojoba is the desert's answer to dryness. Dwelling among sand storms and cacti, Jojoba emerges as an ebullient, emollient oasis. As this strong shrub bakes underneath the desert sun, pearls of liquid gold germinate inside Jojoba seeds. These seeds burst forth a golden oil that is cold-press extracted to deliver a lipid that is super similar to our skin's natural sebum. Sinking effortlessly into skin, it transfers phytonutrients supporting the skin retain to moisture and replenish elasticity. Brilliantly beneficial to skin with its abundance of nutrients and vitamin E tocopherols, Jojoba lubricates like oil, yet it is actually a liquid plant wax, making it perfectly pitched to balance oily skin as it regulates sebum and purifies pores. Resiliently rich and silky, Jojoba provides long-lasting moisture. |
| Laurel Wax - Myrica pubescens | Lovely Laurel Waxes poetic on your cheeks and balms a breathable, loving layer on your skin. This fine fruit wax is a blessing from the berry of an evergreen shrub that grows at high altitudes in the Andes. |
| Frankincense - Boswellia carterii | Frankincense is beautifully balsamic in nature, giving it the unparalleled power to fade the appearance of scars, fine lines, and puffiness. This oil is a terrific tonic that has been used for thousands of years to nourish and preserve skin. |
| Blue Tansy - Tanacetum annuum | Beautiful Blue Tansy is a super hero soother that calms the skin and the spirit. This ink blue oil rich in the botanical compound azulene is a dream to ease the appearance of scars, dryness, redness and spots. |
| Sandalwood - Santalum album | Soothing Sandalwood, sacred for thousands of years, hastens skin smoothing and reduces the appearance of scarring. It suffuses skin with magnificent moisture and purifying powers. |
| Peppermint - Mentha piperita | Bursting with minty freshness and powerful plant properties, Peppermint's cooling qualities are the key to calm. Peppermint feels cooling and nice like ice, and it is, therefore, one of those essential, essential oils that belong in every travel kit. Peppermint's plant power, along with its tonic benefits, revitalizes dull skin and brings balance to oily skin. |
| Cypress - Cupressus sempervirens | Strengthening Cypress oil is a calming and fortifying tonic. Cypress is stellar for purifying pores. Distilled from the mighty needles of the majestic evergreen tree, which stretches proudly toward the heavens as it watches over centuries of existence. This crisp essence purifies pores, balances excess skin oil, lifts the spirits, and tones for skin. |