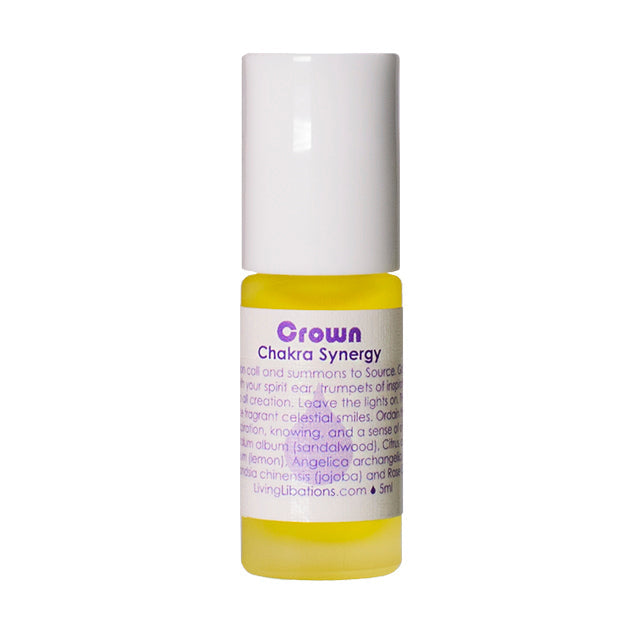 Quick overview
Details
Ingredients
Crown Chakra - a clarion call and summons to Source. Going out of your head, to hear with your spirit ear, trumpets of inspiration and songs of your relation to all creation. Leave the lights on. The crown spirals open to embrace fragrant celestial smiles. Ordain this angelic anoint to encourage inspiration, knowing, and a sense of divine-self.
Chant sound for chakra: Om
Get your chakras glowing and your nose flowing with the complete Chakra Synergy bundle.
Chakras are energetic spirals of energy in the body that coincide with glands. There are as many electrical currents in the river of your being as there are sparkles in a starry meadow. The breath keeps this river harmoniously flowing, distributing vital source energy through your entire body.
Your susumna is the fluid sap soaring through the trunk of your tree of life. Along our spine's scepter-stem are gems of rainbow orbs that cruise the cerebrospinal muse. The spine is the conduit for the journey of these electrical energies. Flexibility of the spine fuels the flow, and plant essences give liquid light to this journey. Light is the key to this portal land of chakra and energy flow.
The soma of plants ever-offer the gift to expand our beauty; halos of essential oils inspire spiral streams revealing jeweled points of energy. The harmonizing of our chakras flows into the glow of our aura. The auric-field is a mirror of reflectance and acceptance, gleaming inner and outer worlds.
To Use: With a single whiff or a tiny dab, essential oils meld and weld their way into our life force, influencing the mind, emotions, and body. Our Chakra Synergies may be applied to the designated chakra spots (soles of the feet, lower abdomen, navel, chest, neck, brow, and top of the head), to any pulse point, under the nose, enjoyed as a type of personal perfume, and diffused singly or layered. Use it to enhance meditation and yoga or to expand your mind, mood, and musculature.
Sandalwood - Santalum album

The sanctity of Sandalwood opens the heart and mind with luxuriant notes of nutty, full-bodied heartwood with an ethereal, creamy, sensual finish. This serene aroma serves as a fragrant foundation to the sacred sages.

Neroli - Citrus aurantium

Blissful Neroli blossoms are organically harvested in Tunisia, where the delicate blossoms of the orange tree offer their opulent elixir. It is one of the most exquisite essential oils, emanating a euphoric aroma reminiscent of an Elysian orchard. It is named after a 17th century Italian princess who perfumed her clothing and baths with the essence of orange. This fragrant floral will gift your pits in ethereal luxury.  

Lemon - Citrus limonum

Our lovely, lively Lemon essence is a revitalizing elixir of delectable delight. Extracted from the rinds of thousands of lemon peels, each drop contains within it the power to elevate the mood and invigorate the senses.




 "Lemon clarifies everything through upliftment and focus. In this, there is centering and the impetus needed to send precious thoughts. Its fragrance enables our meditations to be deeper and our prayers to take flight." Valerie Ann Worwood, Aromatherapy for the Soul.

Angelica - Angelica archangelica

Amazing Angelica Root is steam distilled in France by a lovely fourth generation artisanal distillery. This diaphanous chrism quells indecision, clarifies the mind's crown and crystalizes emotions into lucidity with each misty-musky angelic molecule.

Jojoba - Simmondsia chinensis

Glorious, golden Jojoba is a great base for precious oils and blends as it never goes rancid. It carries the day as it keeps this chrism combined and easy to apply. 

Rose Quartz

Rose Quartz is a beautiful, balancing pink silica stone that resonates connection in the chakras.