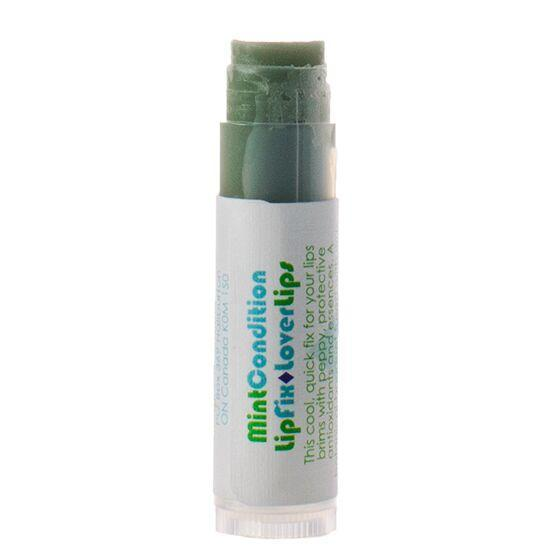 Quick overview
Details
Ingredients
Do your chapped lips need a cool, quick fix? Living Libations Mint Condition Lip Fix brings cool, tingling beauty to your lips.
Mint Condition Lip Fix will nourish your lips into mint condition, lickety-split. A botanical bouquet of wholesome Jojoba, opulent essences and the wondrous wax of bees, keeps arid, cracked lips at bay with this mint mantra.


Use: Apply this balm on to lips to keep them calm all day long. It may also be used as a fine-line balm on the delicate skin under the eyes and along top of the cheekbones. Perfect under our Shimmers.
5ml
| | |
| --- | --- |
| Jojoba - Simmondsia chinensis | Glorious, Golden Jojoba nourishes and conditions thirsty skin. Jojoba has unparalleled ability to moisturize the skin, balance oil production, deep clean pores, and create long-lasting conditioning effects that soften skin to perfect silk. It is packed with peptides and lipids and contains the highest levels of phenolic compounds found in nature along with vitamins and all soluble forms of vitamin E! |
| Beeswax - Cera alba | Beeswax is beloved for its power to protect delicate lip tissue in a porous layer that locks moisture in and keeps toxins out. |
| Peppermint - Mentha piperita | Peppermint feels nice like ice! Invigorating Peppermint brings a burst of minty freshness and soothing coolness to dry, cracked, and chapped lips. Our zippy Peppermint oil is distilled from fresh leaves, and one drop is a juicy wakeup call for the skin and soul. |
| Spearmint- Mentha spicata | Sprightly Spearmint is Peppermint's softer, more understated, cousin. Fresh, fragrant Spearmint soothes the senses with whispers of minty magnificence! The ancient Greeks chose Spearmint to scent their bath water, while medieval populations used the herb to freshen breath and clean teeth. |
| Blue Tansy - Tanacetum annum | Blue Tansy is high in blue azulene and sesquiterpenes to calm and cool chapped lips. It has a deliciously sweet herbaceous aroma and enhances relaxation while soothing dry, red, skin or skin that has been exposed to the elements. |
| Frankincense - Boswellia carterii | Sacred Frankincense is the pièce de résistance of skincare! It relaxes redness, firms the lips, and infuses the skin with copious moisture. It's also wonderful for reducing the appearance of scars and age spots. |
| Grapefruit - Citrus paradisi | Toning, tightening Grapefruit refreshes the skin and lips. |
| Sweet Thyme - Thymus linalool | Sweet Thyme is as strong as it is soft! It contains all the fortifying and toning power of the other types of thyme oils without causing irritation as it purifies pores. Thyme Linalool is a treasured ingredient in our gentle skincare serums. |
| Cardamom - Elettaria cardamomum | Charismatic Cardamom's seed pods are like green diamonds. These sweet and spicy gems are uplifting and inspiring with their exotic fragrance. It inspires strength and stability. It supports clear, uncompromising action attuned to the frequency of strength. |
Key Features:
Lip Balm
Mint Lip Balm
Natural Makeup