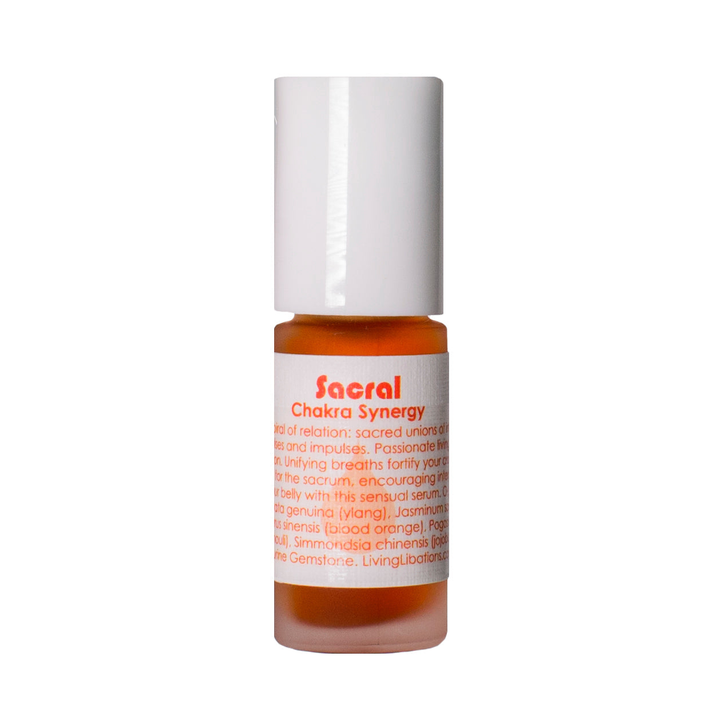 Quick overview
Sacral is the spiral of relation: sacred unions of inhalations and exhalations, pulses and impulses. Passionate living catches fire in fertile communion. Unifying breaths fortify your cradle of creation. Creativity anoint for the sacrum, encouraging interaction, pleasure, and flow. Bless your belly with this sensual serum.
Chant sound for chakra: Ma
Get your chakras glowing and your nose flowing with the complete Chakra Synergy bundle.
Details
Chakras are energetic spirals of energy in the body that coincide with glands. There are as many electrical currents in the river of your being as there are sparkles in a starry meadow. The breath keeps this river harmoniously flowing, distributing vital source energy through your entire body.
Your susumna is the fluid sap soaring through the trunk of your tree of life. Along our spine's scepter-stem are gems of rainbow orbs that cruise the cerebrospinal muse. The spine is the conduit for the journey of these electrical energies. Flexibility of the spine fuels the flow, and plant essences give liquid light to this journey. Light is the key to this portal land of chakra and energy flow.
The soma of plants ever-offer the gift to expand our beauty; halos of essential oils inspire spiral streams revealing jeweled points of energy. The harmonizing of our chakras flows into the glow of our aura. The auric-field is a mirror of reflectance and acceptance, gleaming inner and outer worlds.
To Use: With a single whiff or a tiny dab, essential oils meld and weld their way into our life force, influencing the mind, emotions, and body. Our Chakra Synergies may be applied to the designated chakra spots (soles of the feet, lower abdomen, navel, chest, neck, brow, and top of the head), to any pulse point, under the nose, enjoyed as a type of personal perfume, and diffused singly or layered. Use it to enhance meditation and yoga or to expand your mind, mood, and musculature.
Ingredients
| | |
| --- | --- |
|  Ylang - Cananga odorata | Euphoric Ylang is an amorous essence that's name translates to "Flower of Flowers." Sweet and sultry ylang inspires the senses by dispelling negativity with its petals of perfumed positivity. |
| Jasmine Sambac - Jasminum sambac | Jasmine Sambac is an oil of the spirit. It is a known feel-good soul juice used to inspire feelings of euphoric love and joy. It has a special affinity for spiritual communion and romantic love, and can be used to foster deeper connections with your partner. Jasmine Sambac communes with the mystery of the moon and stars, capturing the fragrant essence of endless warm nights. |
| Blood Orange - Citrus sinensis | Buoyant Blood Orange Oil is a happy, harmonious, bright light aroma that inspires joy wherever it goes! Warm feelings of love and laughter appear as moodiness and worry disappear. Our Blood Orange Oil is organically harvested and steam distilled from the ripe fruit of the Italian Citrus sinensis. Sunny and sweet boosts the mood and the spirit with a smile. |
| Patchouli - Pogostemon cablin | Pure patchouli is more sacred and ancient than one might realize. It is distilled and crafted in the wild wonderlands of Indonesia, where the oil has been used for centuries to promote peace, sensuality, and love. Passionate patchouli has the added bonus of being an aromatic attractant. |
| Jojoba - Simmondsia chinensis | Glorious, golden Jojoba is a great base for precious oils and blends as it never goes rancid. It carries the day as it keeps this chrism combined and easy to apply. |
| Adventurine Gemstone | Jade green Adventurine is a quartz gemstone known as the heart healer. It activates generosity, gratitude, and inner peace. |