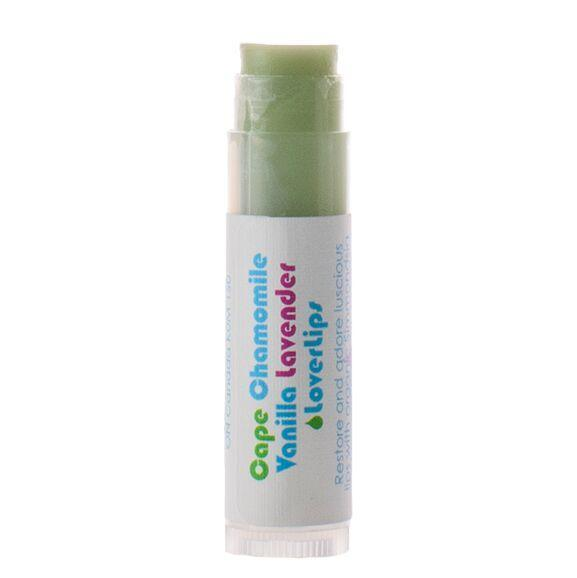 Quick overview
Details
Ingredients
Living Libations Chamomile Vanilla Lover Lips is a beautiful balm crafted to calm dry lips. We have combined opulent oleoresins and loving lipids to restore your smile to the moisture-plumped pout that is nourished from the inside-out.
For lips that long to be extra juicy or are in need of some serious TLC, Chamomile Vanilla Lover Lips will nourish tender tissues with plumping plant power. Velvety Vanilla, calming Chamomiles, cordial Carrot, toning Tamanu saturate wholesome Jojoba with a dash of beeswax to marinate your lips in moisture.
Use: Apply to lips and keep them kissable all day long. It may also be used as a fine-line balm on the delicate skin under the eyes and along top of the cheekbones. Perfect under Shimmer Lover Lips and Lipsticks.
5ml
| | |
| --- | --- |
| Jojoba - Simmondsia chinensis | Glorious, Golden Jojoba nourishes and conditions thirsty skin. Jojoba has unparalleled ability to moisturize the skin, balance oil production, deep clean pores, and create long-lasting conditioning effects that soften skin to perfect silk. It is packed with peptides and lipids and contains the highest levels of phenolic compounds found in nature along with vitamins and all soluble forms of vitamin E! |
| Happy Beeswax - Cera alba | Beeswax is beloved for its power to protect delicate lip tissue in a porous layer that locks moisture in and keeps toxins out. |
| Lavender - Lavandula angustifolia | Lovely Lavender is a gentle-yet-powerful skin tonic that is restorative and calming. It relaxes redness and cools heat. Lavender can be used to improve the appearance of scars, even out skin tone, and balance the skin's sebum levels. |
| Vanilla - Vanilla planifolia | Veritable Vanilla moves beyond the ordinary in a distillation 200 times more potent than vanilla extract. As it lends a lush sweetness, this infamous ingredient delights the senses with tantalizing honey notes. |
| Chamomile - Anthemis nobilis | Comforting Chamomile is steam-distilled from the delicate diminutive petals of French chamomile flowers. It is regenerative and toning. |
| Frankincense - Boswellia carterii | Sacred Frankincense is the pièce de résistance of skincare! It relaxes redness, firms the skin, and infuses the skin with tone. |
| Cape Chamomile - Eriocephalus punctulatus | Cape Chamomile is one of our favorite and most popular Libations! It revitalizes and refreshes the skin. The blue hue offers a cooling cocktail that relaxes redness and calms the skin as well as the spirit. This uplifting essential oil exudes a beautiful, fine fruity-floral fragrance that is one of my favorite aromas. |
| Carrot Seed - Daucus carota | Queen Anne's lace anoints your face with queenly grace. Carrot oil stimulates oil production in pitch perfect ratios, regardless of your skin's current state. |
| Silver Fir - Abies alba | Bask in the glow of our luminous Silver Fir essential oil. Wild-crafted from the native forests of the French mountains, our oil contains the essence of this tree's shining, silver-white needles. Its inspiring aroma emanates evergreen fresh-florals enveloped in crisp camphorous notes anointing your lips to wax poetic with forest-freshness. |
| Blue Tansy - Tanacetum annum | Blue Tansy is high in blue azulene and sesquiterpenes to calm and cool chapped lips. It has a deliciously sweet herbaceous aroma and enhances relaxation while soothing dry, red, skin or skin that has been exposed to the elements. |
Key Features:
Lip Balm
Vanilla Lip Balm
Natural Makeup