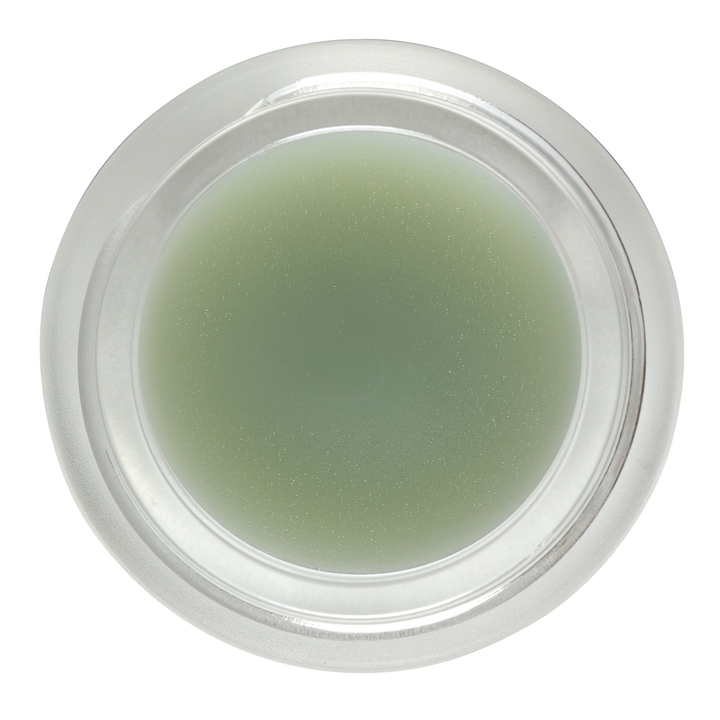 Quick overview
Details
Ingredients
Zap zits and banish blemishes with this activated, ozonated dew.
Living Libations Zippity DewDab Ozonated Beauty Balm is a buoyant beauty balm that cleans blemish prone skin, purifies pores, and clears the appearance of scars and spots as it restores your gorgeous glow. It is infused with fresh ozone to supercharge the effervescent agility of potent essences that revive harmony and smooth skin.
Zippity DewDab Ozonated Beauty Balm is a boldly energetic beauty balm for cleansing acne, and calming the appearance of red, rough, and uneven skin texture. This velvety, balm turns to a silky-soft gel above room temperature.
Skin sheltering Laurel wax and wholesome Jojoba meld and weld the essential oils of tonifying Niaouli, clarifying Carrot, impelling Immortelle, pore-purifying Rosemary, cooling Blue Tansy, and sebum-stabilizing Sweet Thyme. Ozone brilliantly balances and delivers the life force of oxygen to restore smooth, vibrant skin.
For skin needing an agile and efficient tonic, dab a single verdant dewy-dollop onto affected skin morning and night.
Understanding the Aroma of Ozone
If you are new to ozonated oil, the smell can be surprising as it is reminiscent of the aroma of charged air during a lightning storm. Most people love the fresh charged aroma while others, at first sniff, find it strong and unusual. These folks find it more enjoyable after using ozone for a few days. Each formula is enhanced with the delectable dance of infused aromatic essential oils to further activate the olfactory and skin's experience.
Directions: After cleansing, dab a tiny dewy-dollop onto affected skin. Works well under eye makeup and as a lip gloss too!

**Our face and lip balms, butters, and crèmes may soften or liquefy when set in the sunshine or in warm spaces. Room temperature or cooler is best for the most luxurious texture and consistency. Pop in the fridge for swift solidification.
** When using a new product, patch test for sensitivity, by applying a dab inside the forearm or behind the ear, and watch the spot for a couple of days for any sensitivities.
6.5ml
| | |
| --- | --- |
| Ozonated Jojoba - Simmondsia chinensis O3 | Jojoba is juiced with opulent ozone to supercharge skin! When ozone is added to wholesome Jojoba a whole new level of abundance is achieved. Activated oxygen, ozone, is made by charging pure oxygen (two oxygen atoms - O2) to become pure ozone (with three oxygen atoms - O3). This freshly activated oxygen is then slowly infused into Jojoba. Bubbling ozone through Jojoba further fortifies the oil with a breath of fresh air infusing life force right into the skin. Jojoba is the desert's answer to dryness. Dwelling among sand storms and cacti, Jojoba emerges as an ebullient, emollient oasis. As this strong shrub bakes underneath the desert sun, pearls of liquid gold germinate inside Jojoba seeds. These seeds burst forth a golden oil that is cold-press extracted to deliver a lipid that is super similar to our skin's natural sebum. Sinking effortlessly into skin, it transfers phytonutrients supporting the skin retain to moisture and replenish elasticity. Brilliantly beneficial to skin with its abundance of nutrients and vitamin E tocopherols, Jojoba lubricates like oil, yet it is actually a liquid plant wax, making it perfectly pitched to balance oily skin as it regulates sebum and purifies pores. Resiliently rich and silky, Jojoba provides long-lasting moisture. |
| Niaouli - Melaleuca quinquenervia | Numinous Niaouli essential oil is the lively, luminous cousin of Tea Tree. If you find Tea Tree a bit pungent, this reviving essence offers extra toning power wrapped in a warmer, sweeter, and more camphorous scent. Brimming with effective plant intelligence, Niaouli tightens tissues and is quite helpful for diminishing the appearance of skin issues. Just as Tea Tree oil is known for cleansing acne, Niaouli offers similar benefits for sensitive skin. |
| Carrot Seed - Daucus carota | Carrot Seed - Daucus carota Queen Anne's lace anoints your face with queenly grace. Carrot oil stimulates oil production in pitch perfect ratios, regardless of your skin's current state. Oily, dry, and combination skin can all benefit from the stimulating, moisturizing power of Carrot Seed. |
| Immortelle - Helichrysum italicum | Everlasting Immortelle is stellar and shines divine for all kinds of skincare. This fragrant-floral oil is wild-crafted on the island of Corsica where the flowers prosper with ocean breezes and sunshine. The flowers grow at an altitude of 4,000 feet on the rocky countryside cliffs. Immortelle aids in abating the appearance of scars, spots, melasma, redness and fine lines. This multifaceted gem of an oil is uplifting emotionally as well. |
| Rosemary - Rosmarinus officinalis | Rousing Rosemary essential oil is an herbaceous revive-alive-verve-tonic with a refreshing, penetrating aroma. Think of Rosemary as the feisty friend that stimulates sluggishness out of its stagnancy, supporting scalp and skin to thrive with renewed freshness. |
| Blue Tansy - Tanacetum annuum | Beautiful Blue Tansy is incredibly soothing and calming to the skin and the spirit. The high azulene content of this oil adds antioxidants to the long list of ingredients in this product that makes this oil sing. Blue Tansy has a deliciously sweet herbaceous aroma and enhances relaxation while soothing dry, red, skin or skin that has been exposed to environmental elements. It also brings peaceful feelings to your beauty routine. Blue Tansy is known for its fruity-like aroma. |
| Sweet Thyme - Thymus linalool | Sweet Thyme is as strong as it is soft! It contains all the fortifying and toning power of the other types of thyme oils without causing irritation as it purifies pores. It is known to stimulate and energize the body and mind while being mild enough for use on young children and the elderly. Thyme Linalool is a treasured ingredient in our gentle skincare serums. "In this oil the mildness of linalool and linalyl acetate is combined with the tonic action of Thyme. It is excellent for impurities of the skin. Its gentleness has made it an aromatherapy classic overnight. It is a pleasant tonic… and is irreplaceable in skincare" (Schnaubelt, 1999). |
| Laurel Wax - Myrica pubescens | Lovely Laurel Waxes poetic on your cheeks and balms a breathable, loving layer on your skin. This fine fruit wax is a blessing from the berry of an evergreen shrub that grows at high altitudes in the Andes. |